Oklahoma City's premier burlesque & variety arts studio offering performance classes, special guest workshops, bachelorette parties, and pin-up parties!

Oklahoma School of Burlesque
Run by headmistress,
Adèle Wolf,
the Oklahoma School of Burlesque offers a variety of classes and workshops in burlesque, vaudeville, and circus arts. We offer classes to suit a variety of students. Whether you want to learn for personal growth, perform onstage, or hone your skills as a performer, we have you covered! We also offer burlesque parties for bachelorette parties and other special occasions!
All Classes/Parties are held at:
AALIM Bellydance Academy
2520 North Meridian.
Oklahoma City, OK
What the students have to say:
"...my lovely husband bought me the beginner package of burlesque lessons with the lovely Miss Wolf...this is the best gift he's ever given me. Definitely. By far. THE BEST." - Lynne R.

"Adèle is a great instructor! I love all the classes I've taken with her. The classes are fun and informative. The atmosphere is really low-key and great for unwinding after a long day." - Melissa W.

"Wow! What a fun class! I enjoyed learning about the world of burlesque and learning some dance combinations. It is a great way to end a workday!" - Jana B.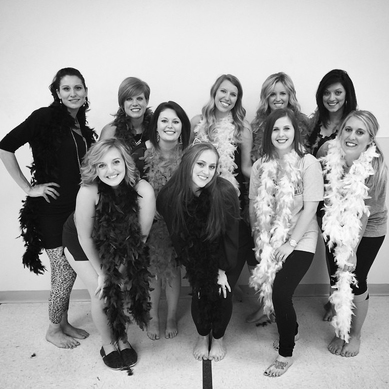 Upcoming Events!
---
Sensual Chair Dance & Floor Work Intensive on October 23rd

Workshop: Sensual Chair Dance
Time: 1:00 - 2:00PM
Guest Instructor: Nikki Knockout

Learn how to use a classic burlesque prop, the chair! In this class you will how to spin, climb, move and flip on and with your chair as you seduce your adoring audience. This class incorporates a mix of flexibility, acrobatics, jazz and pop moves and is open to all levels. You will also learn a sexy choreographed chair sequence!

What you will need:
Snug fitting activewear
Water
Heels (optional)


Workshop: Floor Work Intensive
Time: 2:00 - 3:00PM
Guest Instructor: Apathy Angel

This intensive workshop will focus specifically on moves, attitude, and how to seamlessly transition from one element to the next. Perfect for those looking to spice up current routines, want to start incorporating floor work in their repertoire, and performers new to getting down on the ground! Class will cover getting down to ground level seductively, using attitude and body language with economy of movement to make a statement, splits, crawls, backends, and leg lifts. Be prepared to stretch! Class will include a choreographed combination.

What you will need:
Snug fitting activewear
Water
Heels (optional)

About Your Instructor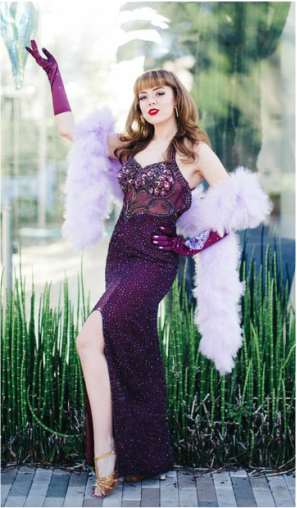 Adèle Wolf is an internationally touring, award winning burlesque performer and producer, internationally published model, and actress, based in Oklahoma City. She is also the protege of burlesque legend, April March. She has been performing onstage for the majority of her young life in various disciplines and has had years of formal training in dance, theatre, and voice. Ion Oklahoma has called her "Oklahoma City's Burlesque Queen!" Adèle was Miss Fort Worth Stomp 2011 and was awarded the Satan's Angel award for hottest body at the 2012 Dallas Burlesque Festival. She travels regularly and has performed and instructed in major cities across the world, including Paris, London, Munich, Hamburg, Amsterdam, Glasgow, NYC, San Francisco, Chicago, and more!
Adèle is the producer of
Adèle Wolf's Burlesque & Variety Show
and the
Oklahoma City Burlesque Festival
. She is also the headmistress at the
Oklahoma School of Burlesque
and
Dr.Sketchy's Anti-Art School Oklahoma City
. In Fall 2013, Adèle produced a sold-out run of her show as part of the Mumford & Sons Gentlemen of the Road Stopover in Guthrie, OK. In Fall 2014, Adèle headlined at San Francisco's Hubba Hubba Revue, named one of the
Top 10 Burlesque Shows Worldwide by the Travel Channel.
Since April 2015, Adèle has done four tours of Europe, where she has performed and conducted workshops in England, Scotland, Netherlands, France, Italy, and Germany.
Adèle attended Savannah College of Art and Design and studied performing arts, before transferring to Oklahoma City University where she received an acting scholarship. Adèle has performed burlesque across the nation from the legendary Bourbon Street in New Orleans to Webster Hall in New York City!
She has taken classes with world famous performers such as: Michelle L'amour, Jo "Boobs" Weldon, Kitten DeVille, Julie Atlas Muz, Perle Noire, Ray Gunn, and many, many others! Adèle has performed in the Show-Me Burlesque Festival, Kansas City Burlesque Festival, Texas Burlesque Festival, and the Dallas Burlesque Festival. Adèle Wolf is also an internationally published model and will be sharing many of her makeup and posing secrets with you!
---